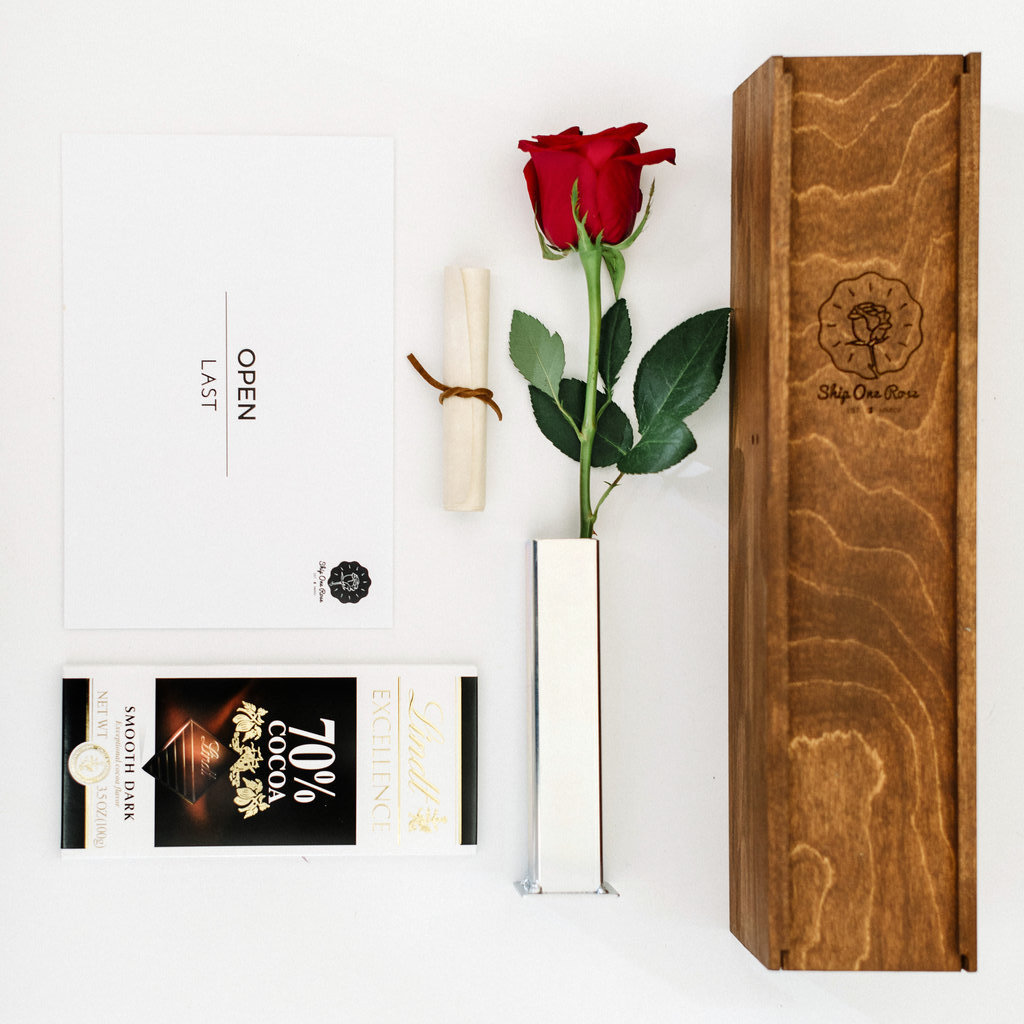 The Rose Box - The Perfect Rose Gift
SKU 1
Product Details
The Rose Box is way more than a single rose.
It's a completely unique rose product, and way more personal.
Forget about flowers that come in cheap plastic wrap. You're better than that — and if you're still wearing your 623 New Balance, it's time to get rid of those too! The presentation of the handcrafted wooden Rose Box and the scroll that's tied up in leather will definitely draw your girl or boy's attention. Plus, it already comes with a vase and instructions, so all worries about how to keep the rose lasting long will vanish.
It's not just a rose. It's a moment. There's a lot of love that goes into each and every one of these single boxes.
Each handmade box comes with a premium rose that sits in a steel vase.
Inside the box is customizable message scroll and flower nutrients.
- Delivery on available in the Continental United States -

WANT IT TO BE TOTALLY ANONYMOUS?
Not a problem. Learn more here
HAVING TROUBLE WITH THE DATE PICKER ON MOBILE?
Sometimes the mobile date picker does not allow special dates. Switch to your laptop or desktop computer for a better ordering experience.
EACH BOX COMES WITH
1 - Premium Red Rose
1 - Handmade Maple Box
1 - Steel Vase
1 - Customizable Message Scroll
1 - Flower Nutrient Pack
1 - Flower Care Instructions
IF YOU REQUIRE A DATE NOT AVAILABLE VIA THE CALENDAR AND/OR OVERNIGHT SHIPPING
PLEASE CONTACT: INFO@SHIPONEROSE.COM OR CALL: (657) 22-1-ROSE
We will do our best to accommodate any request.
Save this product for later
Quick and simple shipping anywhere in the continental U.S.
Our roses are the highest quality organic roses.
The rose box includes a customizable message parchment. Write an awesome note and express your love with style.
If you have a problem with your purchase we will give you a full refund.
The Rose Box is one of a kind. They will never forget it and they'll tell everyone about it.
My girlfriend was over the moon.
She loved the handmade wooden box. The message written and wrapped up in a scroll inside the box made it that much more special.
Way better than a traditional bouquet of flowers.
I've been married over 30 years.
The Rose Box is the most unique V day gift I have ever received!
I crushed it with Ship One Rose.
​
Beautiful presentation.
Scored big for our anniversary :)
​
Worth every penny.
My boyfriend got The Rose Box for me for my birthday and gave it to me at dinner. It was very romantic.
It's such a thoughtful gift.